Cook, award-winning author and chair of the Shetland Food and Drink Association
"I want to celebrate Shetland and share my enthusiasm and pride for my home and its wonderful food."
Inspired first by her mother and then by her domestic science teacher, Marian decided on a career as a cookery teacher at the early age of 12. From then on, all holiday jobs had a common theme – from creating butter pats in a traditional grocer shop, to preparing vegetables in the Queen's Hotel on Lerwick's waterfront, and on to processing kippers – it was always food related.
Fulfilling her ambition, Marian studied at Edinburgh College of Domestic Science, then taught for several years in Norwich before moving to London and teaching inner city sixth formers. The diverse backgrounds of her students opened her eyes to vibrant and exotic foods and she became fascinated with the variety of food from different places and cultures.
Marian has recently reconnected and created a permanent home in Shetland, and the writing of her book has reintroduced her to Shetland's traditional cookery and today's range of produce.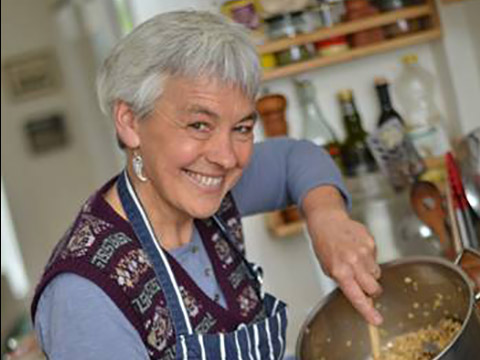 Shetland Food and Cooking won the 'Food Promotion' category at the Gourmand World Cookbook Awards in China in 2016.
Marian is the chair of the Shetland Food and Drink Association , writes a regular food column in Shetland Life magazine, and participates in a range of events aimed at highlighting Shetland's local produce.
"Shetland's food is currently undergoing a renaissance and whether you live in Shetland now – born and bred or settled here; if you have lived in Shetland in the past or are a visitor, I hope that you will seek out the ingredients that Shetland is rightly proud of and use them."
"Shetland is very fortunate to have such a knowledgeable and passionate ambassador for its produce. Marian's comprehensive and award-winning book 'Shetland Food and Cooking' is not just a recipe book, it is a tribute to Shetland's cooking traditions and array of top quality produce. As Shetlanders we often overlook the bounty of wonderful food on our doorstep, and it takes an advocate like Marian to remind us just how lucky we are."
Ruth Henderson, Chief Executive, Seafood Shetland