Fresh fruit and nut cakes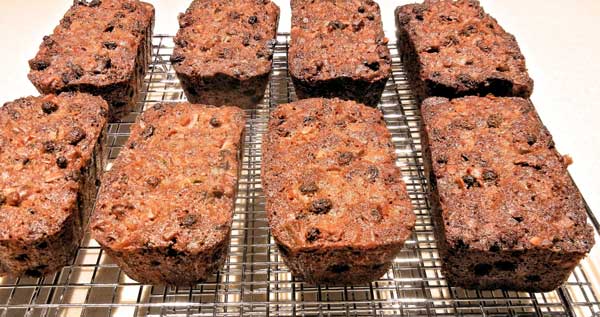 Creative Shetland gardeners with good shelter and /or polytunnels may well be enjoying a glut of lovely fruit at the moment. If you are not able to grow your own the supermarkets have a good range of seasonal produce, much of which is grown in the UK.
At The Shetland Garden Co. which is part of COPE – Shetland's Social Enterprise and Charity – strawberries, gooseberries blackcurrants and at the time of writing redcurrant and blueberries have all grown successfully this year. Why not take advantage of their experience and expertise and find out which fruit bushes and trees might be suitable for your garden? Another useful contact is John Hancox at www.scottishfruittrees.com who is able to advise on suitable varieties and who together with Tavish Scott recently hosted Holyrood Apple Day at the Scottish Parliament and which last year featured Shetland grown apples.
The advantage of making cakes using fresh fruit is without doubt the lovely flavours – different varieties of apple or pear for example will produce a noticeably different taste. However these cakes will not keep very long due to the high moisture content but a day or two in a sealed box in the fridge will be fine – or freeze half for later. Better still – just have a second slice.