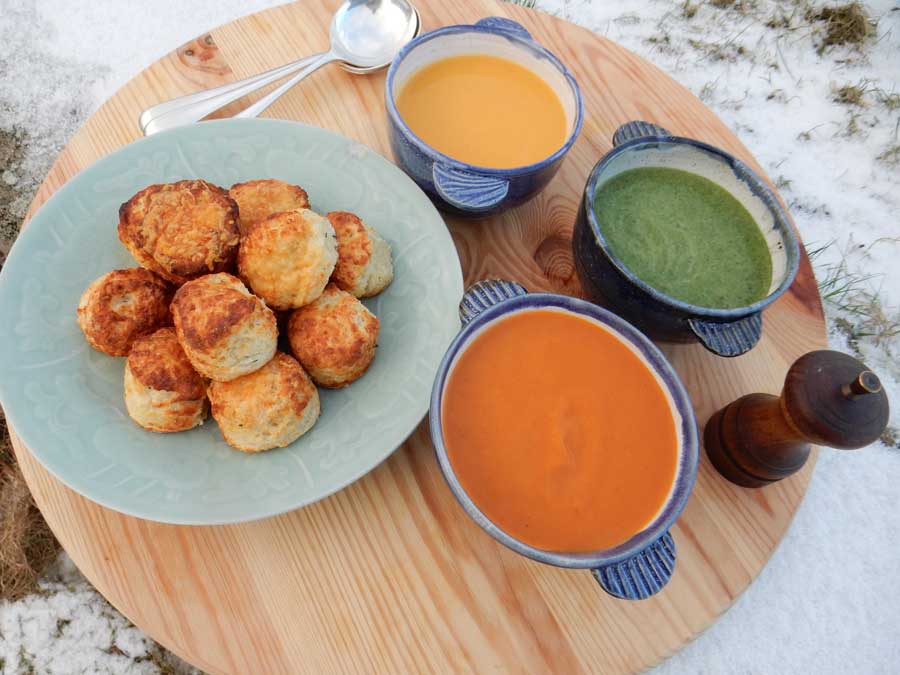 I want to show you my favourite versions of some popular soups.
Some ideas originate from my late friend and colleague Anne Bernaus who compiled a booklet with a collection of soup recipes from staff and students at the William Morris Sixth Form in Hammersmith, West London where I taught for many years. Ann, together with Lindsey Scotney ran a cookery club once a week as part of our activities programme.
The soups are meant to be made thinner and lighter so will make a good starter for a big dinner or will fill a flask for a lovely walk on a fine spring day. Nothing wrong with a plateful of rib-sticking thick lentil, taatie or pea and ham soup mind you, especially when the wadder takes a turn for the worse.
It is always said that you need good stock or a meaty bone as a base for a soup and I sometimes find a tub of mystery 'I think yun's chicken stock' rattling unlabelled in the bottom of the freezer. Of course a fine marrow bone takes a lot of beating….
I try not to use stock cubes too much as they really can be so very salty. I am very keen instead on the stock brand 'Marigold' which is widely available and is sold by Scoop Wholefoods in Lerwick. It comes in a less salt, vegan, gluten and yeast free version. It is, however completely OK to make a soup with just its own ingredients providing the tastes – especially if you roast or 'sweat' the vegetables first. Adding a peerie grain of cumin, chilli or some herbs all helps to make the flavours more complex and interesting.
I have used milk, butter and buttermilk from Shetland Farm Dairies – local, wholesome and available whatever the weather, every day of the year.
The soups all have a proportion of milk in them – this makes them more nutritious but be sure to keep leftovers well chilled in the fridge. The milk provides protein and calcium and also contributes to their lovely smooth and creamy texture so I have resisted adding cream to the photos as I wanted to show off the bright colours of the ingredients.
Instead of serving bread with the soup try making these really delicious peerie cheese and thyme scones. Warm from the oven- they just hit the spot.
I bought the beautiful peerie bowls at the Craft Fair last year. They are made in North Roe by talented potter – Sharon McGeady.

BUTTERNUT SQUASH AND ORANGE SOUP

ROASTED RED PEPPER AND SWEET POTATO SOUP