Pulled Pork Wraps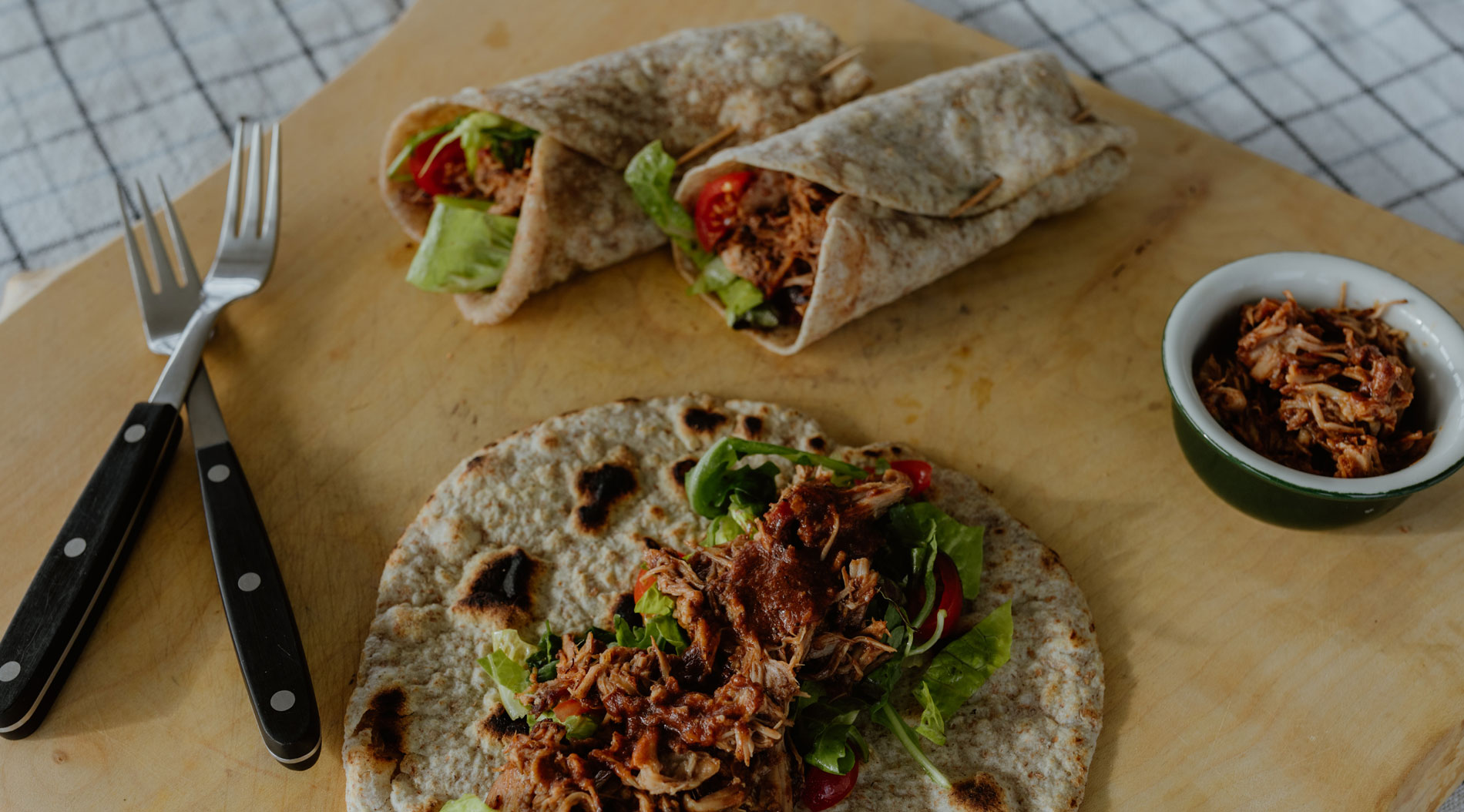 This is such a great recipe, perfect for a substantial picnic on a #ne long walk or to feed hungry bairns on an evening at the beach. The pork is cooked slowly in a mildly sweet and spicy marinade, either in a slow-cooker or in a very slow oven for 4-5 hours. You can, of course, buy the wraps, but do try making your own – it's really easy. The inspiration for these wraps comes from Sheila Keith, one of my fellow directors at Shetland Food and Drink whose day job involves working as executive ocer at the Shetland Fishermen's Association. She is also one of the volunteer co-ordinators at the Shetland Christian Youth Camp which has taken place most summers for the last 25 years.
The stunning location just above the West Voe beach at Sumburgh caters for groups of over 100 children and adults – and these wholesome wraps feature on the menu.
Makes 8
Pulled Pork
1.5kg pork shoulder – cut in half
1 tin tomatoes – 400g
1 teaspoon Dijon mustard
2 tablespoons runny honey
1 x 5cm piece cinnamon stick nutmeg – grated
1 teaspoon allspice berries – crushed in a pestle and mortar
1 piece fresh ginger (15g approx) – cut into thin slices
2 cloves garlic – crushed and roughly chopped
1 level teaspoon salt
Wraps
100g plain "our
100g wholemeal "our 2 tablespoons olive oil Large pinch salt 100ml warm water
Salad
Leaves, rocket, cucumber, lettuce, small sliced tomatoes – your choice.
Pulled Pork
Put all the ingredients except the pork into a pan and heat through, 
mixing well.
Place the pork pieces into the slow cooker, or a deep roasting tin, and add the sauce, mix around to coat.
Cook for 8 hours in a slow cooker or Rayburn, or 4-5 hours at 100ºC in a conventional oven.
Lift the meat on to a plate or board and pull apart using two forks.
Remove the whole cinnamon and purée the marinade with a stick 
blender.
Transfer to a saucepan and thicken with a level teaspoon corn!our (or plain !our), blended with a little water.
Bring to the boil and stir until smooth and thickened.
Wraps
Mix all ingredients together and knead until smooth.
Divide into 8 pieces.
Roll each one into a circle.
Cook on a !at, dry pan over a medium heat until slightly browned and blistered.
Flip over and repeat on the other side.
Keep warm and soft under a clean tea towel.
To assemble
Spread a teaspoonful of the sauce over the wrap, then some pulled pork, then more sauce. Fold in the top and bottom, then the sides. Cut the wrap in half, at an angle, and o you go.