Run Down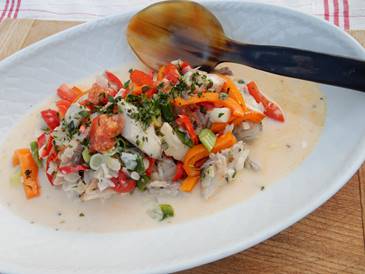 This is a Jamaican recipe with a really exciting combination of flavours and textures. The recipe asks for Scotch Bonnet peppers which are seriously hot and are grown in Shetland at Transition Turriefield in Sandness. (www.turriefieldveg.co.uk) I have used a medium red chilli. It is traditionally served with boiled green bananas and dumplings but is equally good with boiled or steamed potatoes.
400ml tin coconut milk
2 tablespoons sunflower oil
1 onion – chopped
1 clove garlic – finely chopped
8 cherry tomatoes
1 red or orange pepper
1 chilli – deseeded and finely chopped
Salt mackerel – cut into large pieces: 4 small round fish, boned or 4 large fillets– well rinsed
Small bunch fresh thyme to garnish
Soften the onion and garlic in the oil without browning for 5 minutes.
Add the peppers, spring onions, chilli, spring onions and cook for another 5 minutes.
Pour in the coconut milk and bring slowly to the boil stirring very well.
Finally add the salt mackerel and cook on a medium heat for 10 minutes.
Garnish with chopped fresh thyme and serve with plenty of taaties or rice.