Slow Cooked Beef Cheeks with Fragrant Spices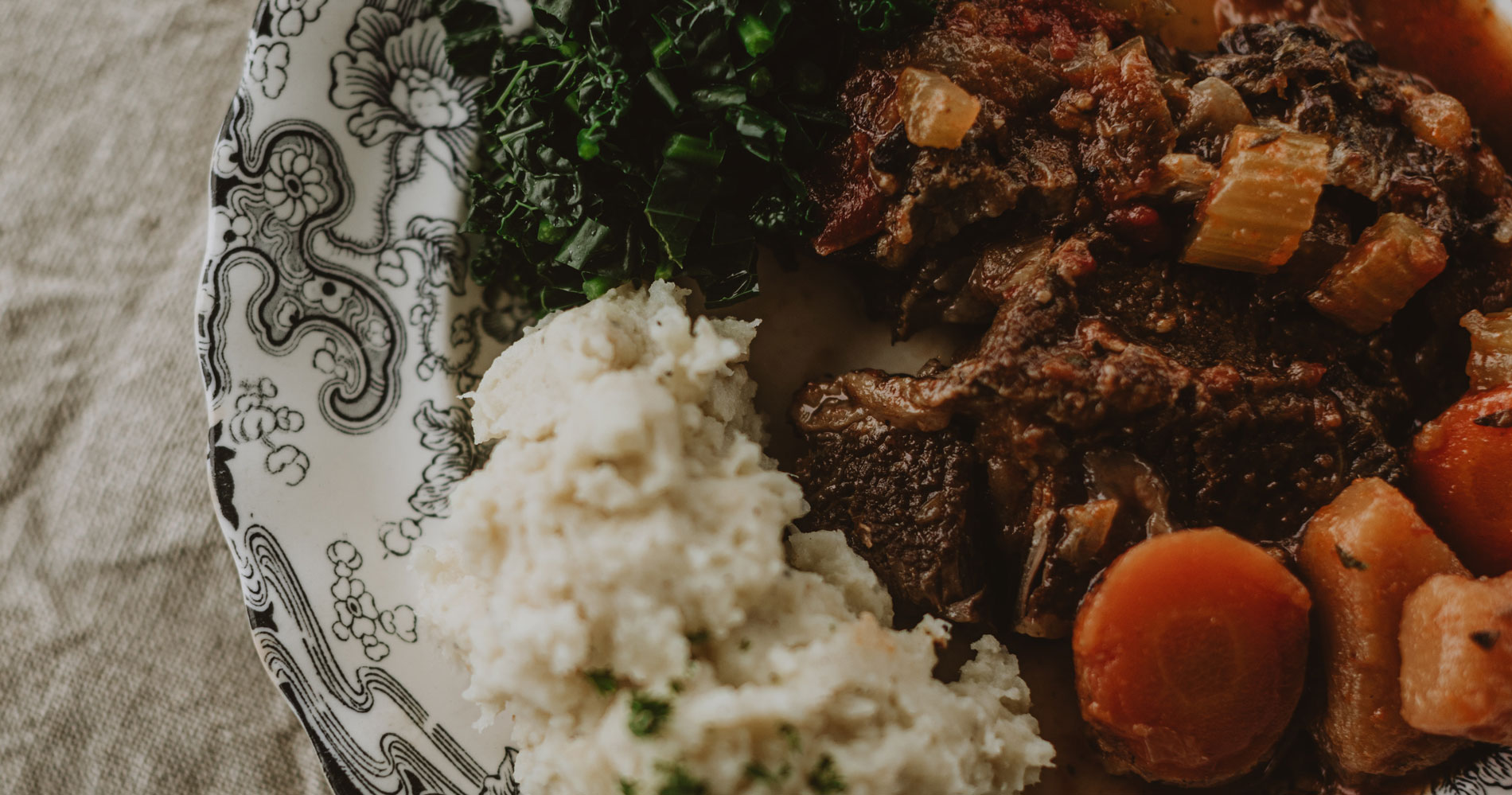 These beef cheeks are sliced and cooked slowly with a selection of light fragrant spices (only a little heat from the ginger). Beef cheeks are easily available from the butcher – the meat is gelatinous and makes a wonderful gravy – but long, slow cooking is essential. They're ideal, too, for making in advance. A simple creamy mash of taaties and celeriac adds great flavours. All that is necessary as an accompaniment is some lightly cooked greens. Shetland kale is a traditional favourite and cavolo nero is equally good with dramatically dark green leaves and a lovely texture.
Serves 6
2 tablespoons rapeseed oil
2 beef cheeks (approx. 800g) cut into large pieces across the grain of the meat
2 medium onions – roughly chopped
2 cloves garlic – crushed and chopped
2 sticks celery – cut into 2cm pieces
2 bay leaves
1 piece fresh ginger (about 2cm) – thinly sliced
2 star anise
1 piece cinnamon stick (about 5cm)
1⁄2 teaspoon juniper berries (about 10) – crushed
Cloves – about 6
Level teaspoon salt
Freshly ground black pepper
1 x 400g tin chopped tomatoes + the tin rinsed out with cold water
2 medium-sized carrots cut into large chunks (add for the last hour of cooking)
200g neep (turnip) cut into large chunks (add for the last hour of cooking)
Small bunch fresh parsley – roughly chopped
Preheat the oven to 150ºC.
Heat the oil in an ovenproof casserole pot and brown the pieces of meat all over. Set aside.
Cook the onion, garlic, celery until the onion is soft – about 10 minutes over a low heat.
Add all the spices and mix well. Then add the tinned tomatoes and water.
Return the meat to the pot and bring to the boil, adding more water if necessary – the meat should be just covered.
Season with salt and pepper.
Cover with a well-fitting lid and cook for approximately 3 hours, reducing the heat to 120ºC after the first hour. Add the carrots and neeps for the last hour.
This casserole is perfect for making in advance. Serve with mash and greens.