Spinach Soup with Nutmeg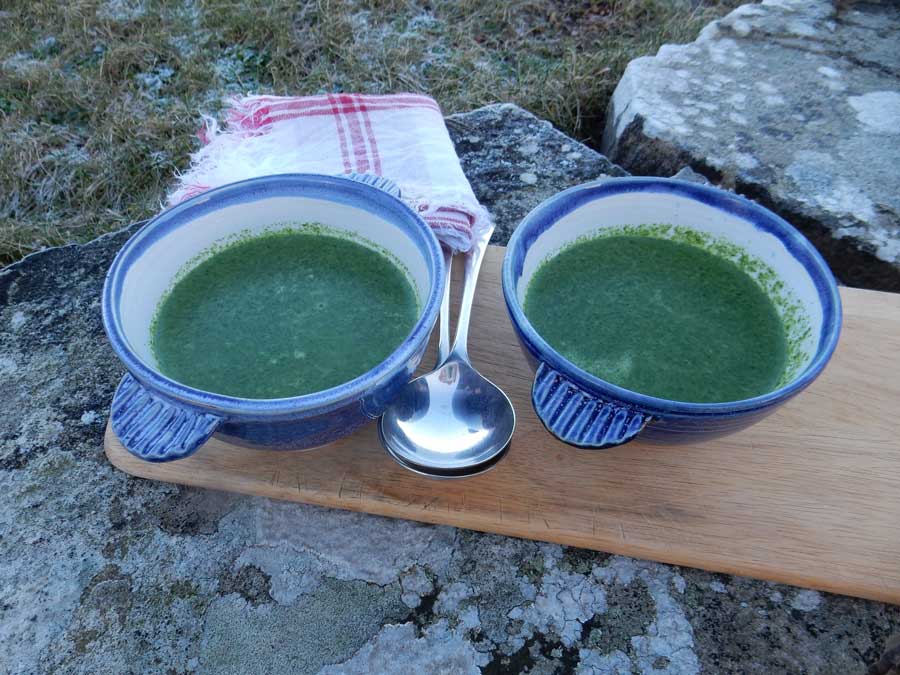 The colour of this soup is amazing and the flavour truly lovely. It is also incredibly nutritious: protein and calcium in the milk and iron in the spinach. It can be made successfully with bagged baby spinach – if you are using freshly grown garden or polycrub spinach then use the smaller more tender leaves. It is really quick to make – do not overcook the spinach.
400g fresh spinach – rinsed in cold water
1 medium sized onion – roughly chopped
1 clove garlic – crushed and chopped
25g butter or 2 tablespoons oil (for cooking onion/garlic)
25g plain flour
25g butter (for the sauce)
500ml milk
350ml stock
Nutmeg – freshly grated
Make a thin white sauce: melt the butter, stir in the flour, cook slowly for 2 minutes, add milk and whisk well. Set aside. (This could be done in advance.)
Tear away any thick stems from the spinach.
In a large pan, melt the butter and sauté the onion and garlic till soft – a good 5 minutes.
Add the spinach and allow to wilt – this will only need a very few minutes.
Add the white sauce to the spinach pan and mix well
Pureé with a stick blender until smooth, taste, add pepper and a little salt if necessary.