Cheese and Thyme Scones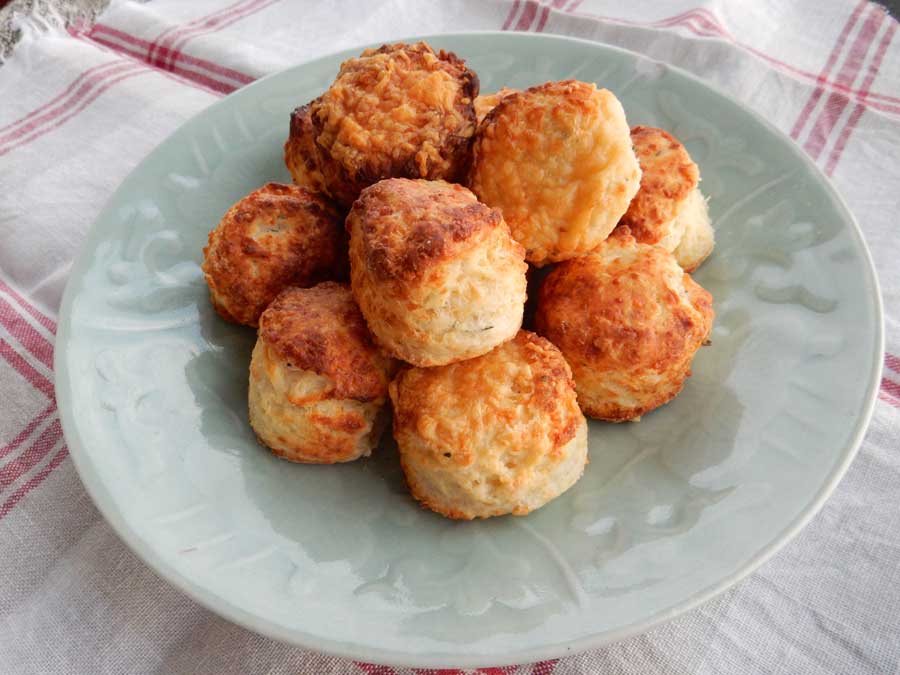 I used a small 1½ inch (4 cm) cutter – you will get at least 12 peerie scones they will cook fast and have a good crunch on the outside. Don't roll them too thin, either. A preheated hot oven is essential. Eat warm from the oven. They will freeze well but warm them slightly before serving.
Although dried thyme will be fine, using fresh really makes a difference.
200g self raising flour
1 level teaspoon baking powder
25g butter
100g cheese – good strong cheddar, finely grated
fresh finely chopped thyme – about a heaped teaspoon
150ml buttermilk
Ground pepper (no added salt as the cheese has enough)
First light the oven – really hot 220ºC and place a baking sheet on the top shelf to preheat.
Sieve the flour and baking powder into a bowl and rub in the butter till fine. Add pepper.
Stir in the grated cheese but keep back a little to put on top of the scones.
Add the buttermilk and mix well with a knife then your hand to gather all the dry bits together.
Turn on to a lightly floured surface and knead very lightly.
Use the back of your hand or a rolling pin to flatten the dough to about ¾ inch or a good 2 cm.
Flour the cutter and cut out the scones – re-rolling all the scrappy bits.
Sprinkle a little of the remaining grated cheese on the top of each scone
Take the hot tray out of the oven and sprinkle on a little flour, carefully place on the scones.
Get them straight into the oven and give them a good 10 minutes before you check them.
They will have a good colour and the aroma in the kitchen will be amazing!