Baked Cheesecake with Hazelnut, Caramel and Apple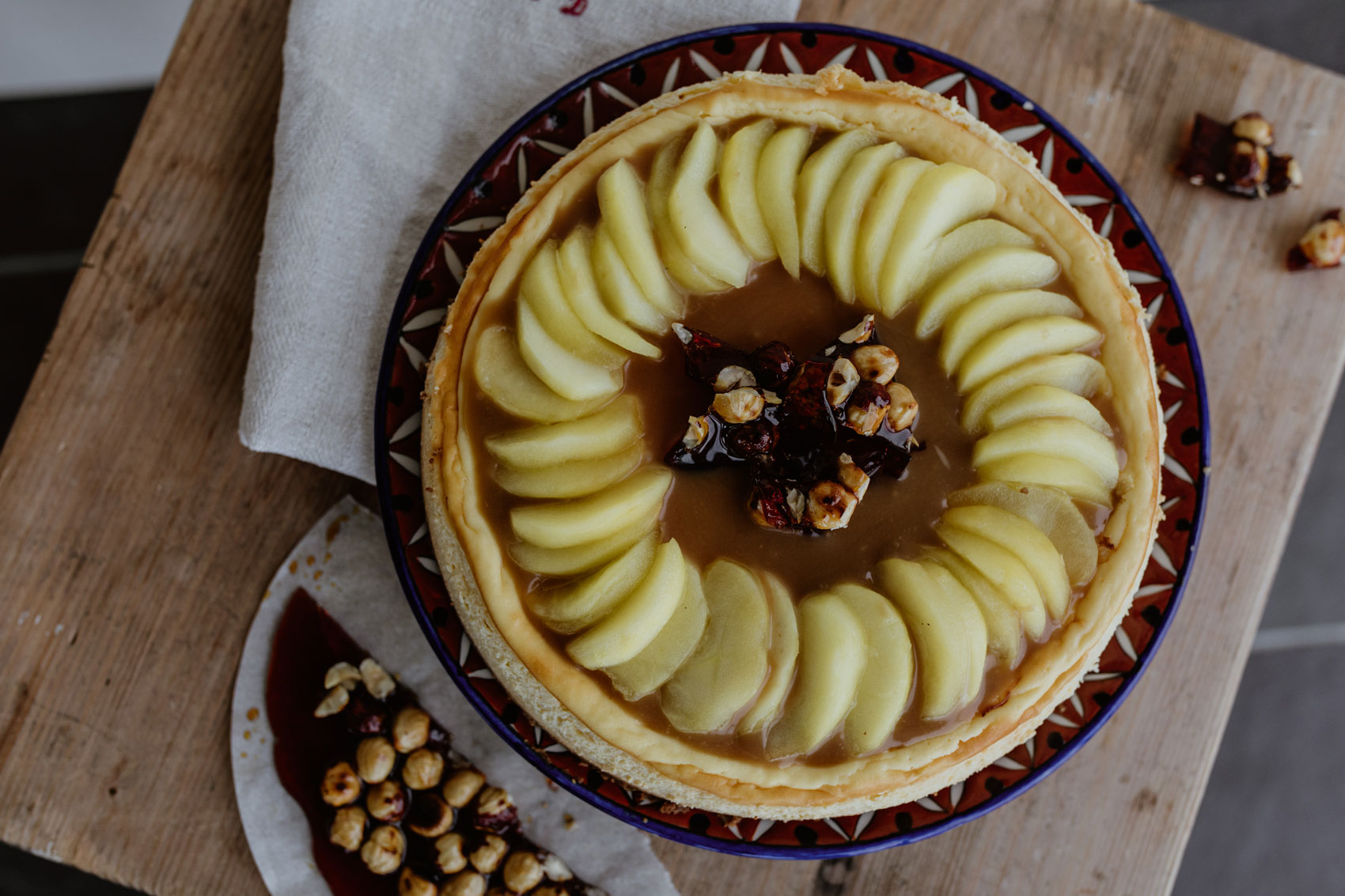 This cheesecake is rich and delicious with a great combination of flavours. Using toasted hazelnuts and oats in the base makes it gluten-free. It is also deliberately thin and not too sweet. The mixture of ricotta and cream cheese provides a good balance of creaminess and lightness. The celebrated Ukrainian author and cook Olia Hercules in her stunning book Summer Kitchens has a similar but lighter 'Curd Cake with Caramelised Apples' which is really delicious.
10 servings
Base
50g unsalted butter
100g fine oatmeal (or oat flour)
50g finely ground toasted hazelnuts
15g demerara sugar
Filling
400g full fat cream cheese
350g ricotta
150g double cream
100g caster sugar
1 rounded teaspoon cornflour (or gluten-free flour)
2 lemons –  finely grated zest
4 eggs
Caramel
6 medium-sized tart eating apples
50g caster sugar
150g water
100g light soft brown sugar
50g unsalted butter
100ml double cream
Hazelnut Praline
50g toasted hazelnuts
100g granulated sugar
1 tablespoon water
Preheat the oven to 180ºC. Grease a 23cm loose-bottomed cake tin.
Start with the base:
Melt 50g butter then add the oatmeal and ground hazelnuts; mix well.
Press into the base of the tin to form a thin layer.
Bake for 15 minutes, remove, then reduce the oven temperature to 120ºC.
In a large bowl, mix all the !lling ingredients together using a whisk.
Alternatively, use a stand mixer
Pour over the base and bake for about 50-60 minutes.
Next, make a poaching syrup with 50g caster sugar and 150ml water and bring to the boil.
Peel, core and slice the apples and poach over a low heat for 2-3 minutes, until just barely cooked. Lift out the slices on to a plate.
Now make the caramel: put the soft brown sugar, butter and cream into a small pan and bring to the boil. Cook for 2-3 minutes, until thick, then allow to cool.
Finally, the praline: (have a sheet of baking paper ready); dissolve the granulated sugar in the water over a very low heat, then raise the temperature and cook until the colour begins to darken and the sugar caramelises. Add the hazelnuts and shake well until they are coated, then tip the whole lot onto the paper and allow to cool.
To assemble, lift the cheesecake on to a serving plate then spread a layer of the soft caramel over the top. Next, arrange the apple slices beautifully. Finally, use the hazelnut praline to decorate. I went for the rugged shard effect!
The base can be made in advance.