Roast Crunchy Cauliflower with Cauliflower Purée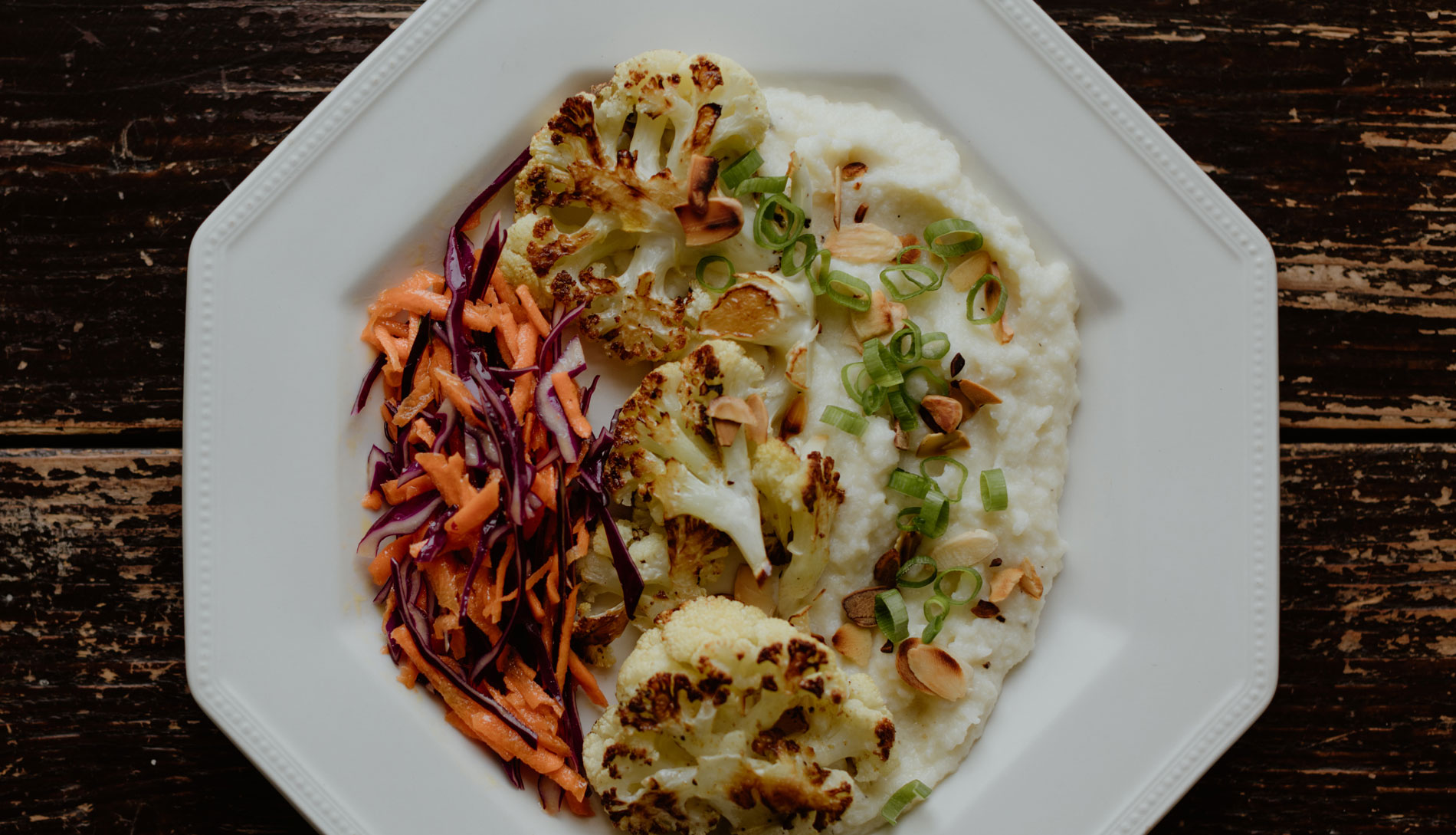 The range of vegetables grown in Shetland has been increasing over the last few years and several growers now offer veg boxes on a regular basis for periods of the year. Whilst the classic cauliflower cheese is a firm family favourite, I have been experimenting with ways to try and celebrate the delicate flavour of this vegetable. Cauliflower is definitely best steamed, rather than boiled, and broken into smaller florets, but do try this recipe which gives different textures: a creamy cauliflower purée in a béchamel sauce contrasting with the nicely charred, crunchy roast slices, sprinkled with toasted flaked almonds.
Serves 6
2 medium-sized cauliflowers – outer leaves removed 
2 tablespoons olive oil 1 teaspoon salt Freshly ground pepper 300ml full fat milk 
1 rounded teaspoon plain flour 25g butter
1 bay leaf
2 slices onion 
1 tablespoon flaked almonds – toasted in a dry pan for 5 minutes 
2 finely sliced spring onions  
I have given the recipe for a classic béchamel just because the flavour is so delicate and complementary to the cauliflower. If you are in a hurry, omit the infusing of the milk. By substituting the dairy ingredients with suitable alternatives, this recipe would be perfect as the basis of a main course for someone following a vegan diet.
Put the milk, onion and bay leaf into a small pan over a medium heat. When the milk is hot, but not boiling, switch off the heat and leave to infuse for at least half an hour. Alternatively, make the sauce the day before.
Preheat the oven to 220ºC.
Cut 6 x 1-2cm thick slices right through the cauliflowers. In a shallow dish – and with your hands – rub oil, salt and pepper well into both sides.
Place on a baking tray near the top of the oven and roast for 15-20 minutes, turning once half-way through. The aim is to have nicely browned and slightly charred edges.
Strain the infused milk into a jug. Rinse out the pan and make a basic roux sauce by melting the butter, stirring in the flour, and cooking for 2-3 moments over a low heat before adding the warm milk gradually and whisking thoroughly. Cook over a low heat for 5 minutes.
Meanwhile, steam the remaining parts of the cauliflowers, which are likely to be in bruck (fallen apart), for approximately 5 minutes.
When just done, purée coarsely with a stick blender and add to the sauce.
Mix thoroughly and taste, adding salt and pepper as required.
Arrange on a serving dish or straight on to warmed plates and garnish with toasted flaked almonds and thinly sliced spring onion.