Crab Pasta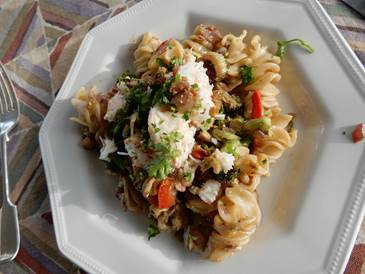 400g Pasta
2 spring onions thinly sliced
2 tablespoons olive oil
1 clove garlic, crushed and finely chopped
½ fresh red chilli seeds removed and very finely chopped (optional)
1 stick celery – very finely sliced
200g brown crabmeat and 200g white crabmeat
A big handful roughly chopped flat parsley
Put a large pan of water on to boil and add a teaspoon salt.
Heat the oil in a large frying pan and slowly cook the spring onion, garlic, (chilli) and celery about 5 mins until soft.
Cook the pasta in a large pan of slightly salted water until just done. Drain but keep some cooking water. Return the pasta to the pan and add the brown meat while hot. Mix well.
Add the celery mixture and mix well adding a little of the cooking water if it seems dry. A tablespoon of cream adds extra richness now – if you like. Sprinkle the white crabmeat over the top. Serve immediately garnished with plenty of chopped parsley.